---


Spinal Adjustments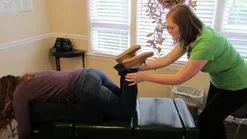 Our doctors are trained in many techniques to assess and adjust the spine. We are able to modify adjustments and use an alternative approach that will specific meet the needs of each patient. Our doctors are trained to assess and adjust extremities such as ankles, knees, wrists, shoulders, and the TMJ.X-ray is often utilized when assessing the spine. Physiotherapy equipment such as therapeutic ultrasound, Electrical Muscle Stem (EMS), heat therapy, and cold therapy may also be used to support spinal correction and stabilization.
Techniques include: Diversified, Gonstead, Thompson, Toggle, activator, SOT, Cranial Release, and Cranial Sacral.
Infant/Child Spinal Adjustments
Our doctors have received further training in order to safely modify spinal adjustments for infants and children. The stress of growth and neural developments with each milestone can cause dural tension in the spine. Along with spinal care, the doctors are also trained in cranial release techniques which include the palate and TMJ. Gentle soft tissue massage may also be addressed in the abdomen for digestive issues such as reflux or constipation.
We have had moms bring newborns as young as 4 days old, so no child is too young fir these gentle treatments. In fact, must newborns sleep through it! Children are very quick to respond and we do all that we can to earn their trust and make them comfortable.

Pregnancy Support
Our doctors are certified by the International Chiropractic Pediatric Association in Webster's Technique. This is a technique used to assess and keep the sacrum in proper alignment leading up to labor and birth. It also involves a gentle massage of the round ligament located low on the belly. Proper pelvic alignment may allow the uterus to expand and allow baby to move into and remain in proper position for a natural birth.
We have pillows that accommodate the belly as it grows to keep baby safe and mom comfortable.

Massage Therapy
Massage therapy does more than make you feel good; it actually helps your body achieve balance and health! Both of our offices have licensed massage therapists that provide specific massage and muscular therapy that is complimentary to chiropractic care. Massage may relieve muscle pain and spasms, increase range of motion, and aid in recovery from an accident or injury.

Regular message increases blood and lymph circulation, which helps to clear metabolic waste, while delivering increased oxygen and nutrients to muscles. We offer half or full hour massage options and will focus attention at one area of the body for treatment. Treatment will typically include an assortment of techniques including Neuro-muscular Massage, Reflexology, Trigger Point Therapy, Deep Tissue Massage, and muscle stretching
Nutritional Counseling
Nutrition plays a vital role in the body's healing process and continuing wellness. Knowing which foods and supplements your body needs, is an important aspect to healing from the inside out. specific supplements and nutritional foods can help accelerate the healing process and aid you on your path to wellness.
Our doctors offer Nutritional consultations where a complete analysis of diet and health is assessed and the patient is given a report of recommendations to help meet your health goals.
Custom Foot Leveler Orthotics
We offer our patients an opportunity to have a 3D Foot Scan which is able to show any weakness in your arches. Weakness in one or all three of the arches in your feet can cause instability in the knee and pelvis.
Foot Levelers orthotics are customized to each foot that is scanned and they offer many types of orthotics to meet your work or athletic needs. A high percentage of patients feel relief in their spine following proper arch support provided by these orthotics.